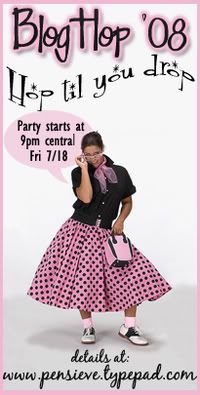 Are you stuck at home instead of rubbing elbows in fabulous San Fran?

Want to be with all your favorite bloggers but can't?

Welcome! Blog Hop 08 is hosted by Pensieve.

I am Kellyn, working mom of two! Lately my title has been nursemaid, the food provider, and the leaning ear. Take a look around and let me know what you think!
I have been blogging for about 2 years, and love having the chance to learn from some of my fellow bloggy friends, and help them when I can. I have strong opinions, a need for garage sales, a music addiction and easy tears.
Thanks for stopping by!

Head on back to Pensieve to find more Blog Hop links!